This post has been compensated by Collective Bias, Inc. and AcneFree. All opinions are mine alone. #AcneFreeSummer #CollectiveBias
It is summer in Texas, and that means no more pants and sweaters – unless you want to be drenched all day.
The last thing you want during this time is to have acne all over your skin – especially on your back when you are wearing tank tops or going out to the pool.
If you have acne-prone skin, you shouldn't have to hide behind heavy sweaters during the summer months! Plus, if you are like me, the sun sweats off most of my makeup anyways, so I ended up trying to go all natural as often as possible.
I have been trusting AcneFree this summer to help keep my skin clear, and they have so many products that cater to so many skin problems. The brand is a one stop shop for all things acne! You can find most of their line on Amazon.com.
With AcneFree, I have felt so much more confident in my favorite crop top and swimsuit!
I have been testing out the 24 Hour Acne Clearing System, the Complexion Perfecting Cream and the Body Clearing Acne Spray.
ALSO, the photo below is shoppable! Click around!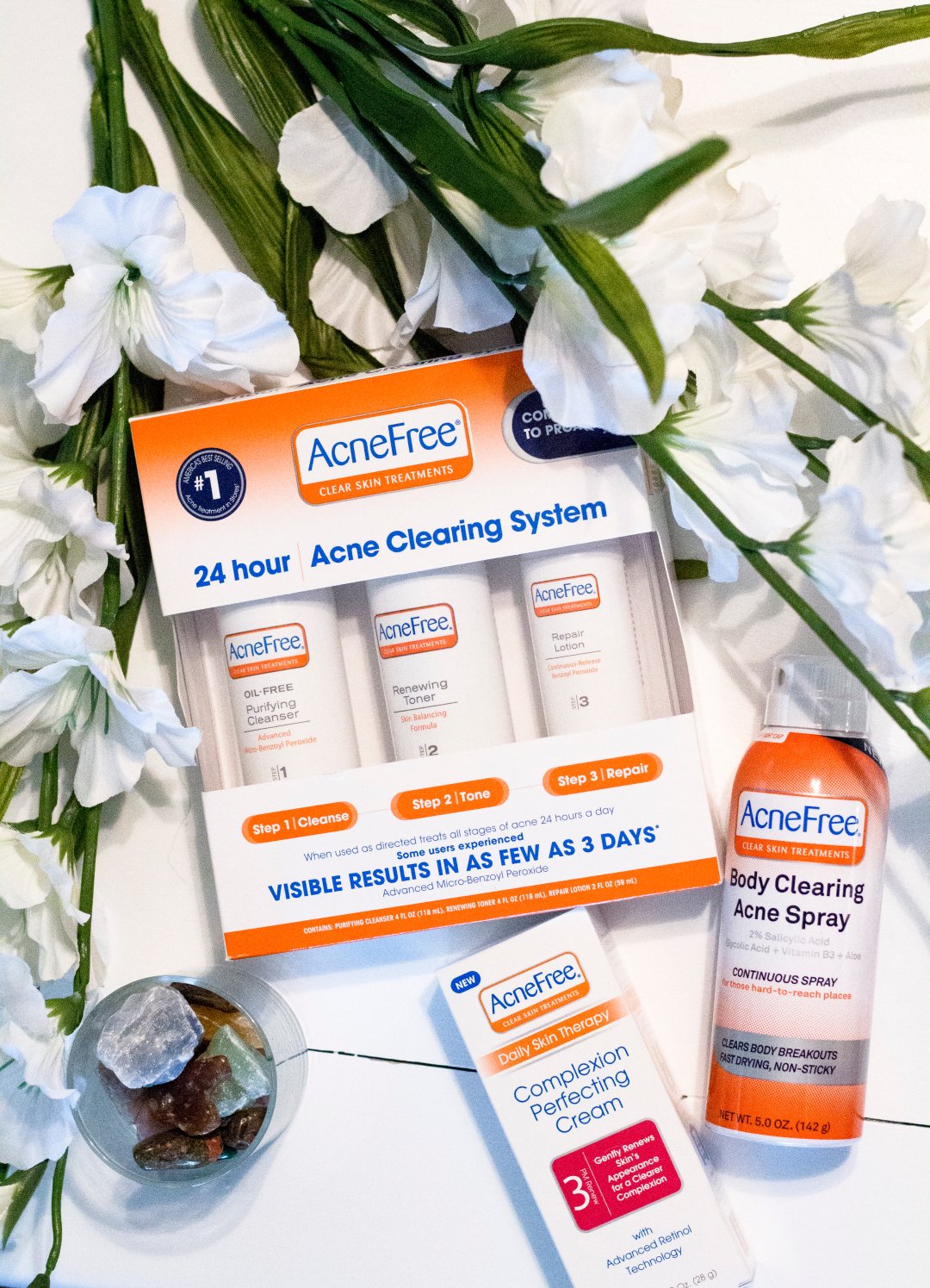 24 Hour Acne Clearing System
The 24 Hour Acne Clearing System is the twice daily system that includes and purifying cleanser, renewing toners and a repair lotion. The active ingredient in the Purifying Cleanser is Benzoyl Peroxide. The Benzoyl Peroxide penetrates deep into pores to fight breakouts, even after rinsing!
The second step is the toner. The toner is made with Witch Hazel, Aloe and Chamomile – which are my favorite products to find in a toner!
Then, the third step is the repair lotion. This product also has Benzoyl Peroxide to help fight breakouts!
The whole system can be used on your chest and back as well.
If you have never had a skincare routine or if you need something easy, this is perfect for you. You the steps are simple, and all the products come in one kit. Plus, it's super affordable, so you don't have to worry about breaking the bank for clear skin!
Body Clearing Acne Spray
The AcneFree Body Clearing Acne Spray is a clear, quick-drying spray that delivers acne-fighting ingredients to hard-to-reach places on the body.
The spray contains Glycolic Acid to help exfoliate skin, and Aloe and other plant and root extracts to soothe the skin and even skin tone.
I love the convenience of a spray! If I feel any bumps on my shoulders, I just spray it on and go!
Complexion Perfecting Cream
The Complexion Perfecting Cream was one of my favorites! This cream is to only be used at night.
It uses Retinol to gently renews the skin surface throughout the night. When I first used this product, I had a lot of redness the first few days. However, it cleared up and my skin looked refresh and was very soft!
This cream has really elevated my going natural look, and I have been loving it all summer long!
This is my skin after a week of using the cream:
Final Thoughts
The worst thing is to be feel miserable about yourself when it is 100 degrees outside. Using the products from AcneFree, you can feel more confident and stay on the go!
How do you keep your skin clear during the summer?